Joined

Jun 13, 2008
Messages

19,219
SPURS 3
-
1 DORTMUND
Son, Kane (2) Yarmolenko
​
Spurs: Lloris (C), Aurier, Alderweireld, Sanchez, Vertonghen, Davies, Dier, Dembele, Eriksen, Son (Sissoko), Kane (Llorente).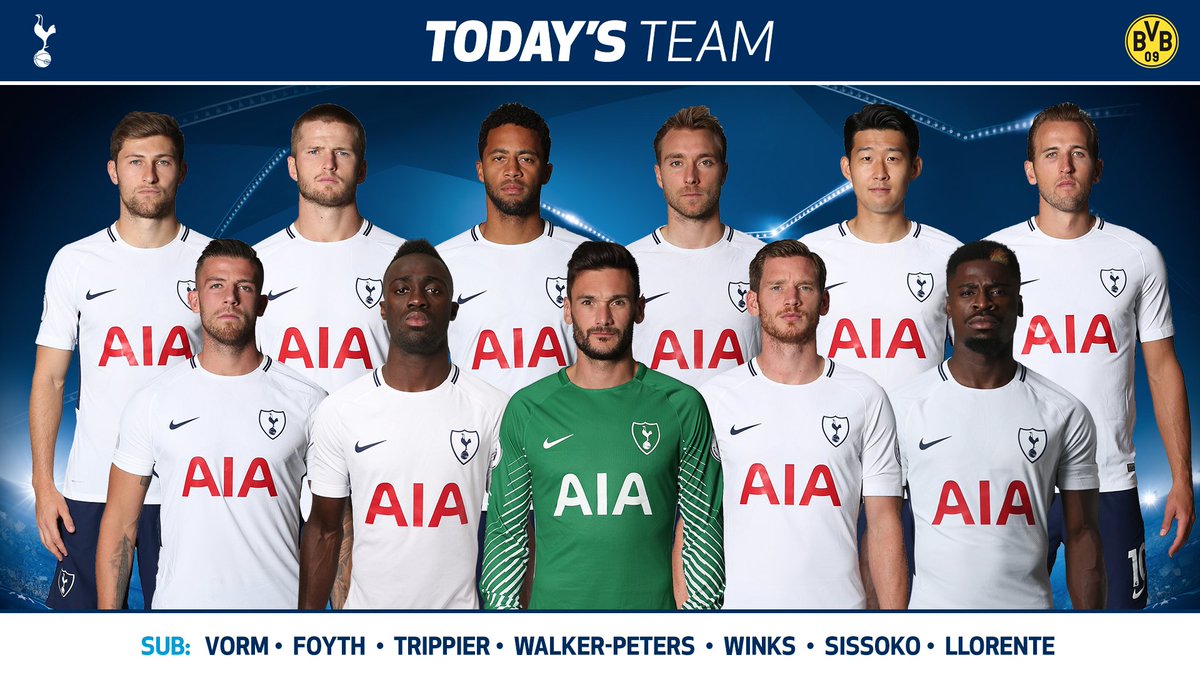 Borussia Dortmund: Bürki, Piszczek, Sokratis (C), Toprak, Toljan, Sahin, Dahoud, Kagawa, Aubameyang, Yarmolenko, Pulisic
Subs:
Official Site Match Centre
90 mins Red Card: Vertonghen (2nd yellow) for foul on Gotze
89 mins Yellow Card: Castro for foul on Dembele.
87 mins Yellow Card: Toijan for foul on Aurier.
86 mins Sub: Lloente for Kane
82 mins Sub: Sissoko for Son
79 mins Sub: Zagadou for Toprak.
71 mins Sub: Castro for Dahoud.
66 mins Sub: Gotze for Kagawa.
59 mins GOAL Spurs 3-1 Dortmund : Kane
Patient build up, Aurier's cross cleared, started again, Dembele into Davies, back to Eriksen, wide to Kane, left channel, low left foot drive zipped across Burki into the far corner.
57 mins Yellow Card: Vertonghen for foul on
Half Time: Spurs 2-1 Dortmund
35 mins Yellow Card: Dier for foul on Papastathopoulos.
14 mins GOAL Spurs 2-1 Dortmund : Kane
Kane got away on half-way, left side, into the box, shifted left of Toprak and drilled into the top corner from the left angle, 16 yards out. Fantastic strike.
10 mins GOAL Spurs 1-1 Dortmund : Yarmolenko
Kagawa in the box right side, rolled the ball back to Yarmolenko who hit a first-time into the top corner from 25 yards.
3 mins GOAL Spurs 1-0 Dortmund : Son
Perfect start. Son played in left side after good work from Kane and Eriksen, plenty to do, into the box, shifted left of Papastathopoulos and blasted home from the left angle.
The Occasion:
2017/18 Champions League, Group Stage – Matchday 1.

Yep, Champions League again. Are we all excited this morning?: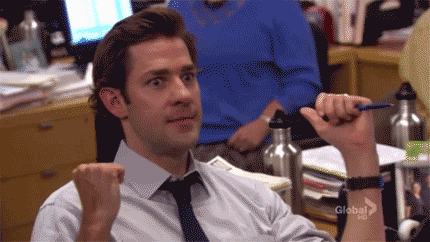 Who:
Tottenham Hotspur vs. Borussia Dortmund
When:
Wednesday 13th September 2017
7.45pm Kick-off (BST)
Where:
Wembley Stadium, London
Capacity – 90,000
Afraid its Wembley again. But don't worry, I'm sure Poch and the boys are raring to get out there again once more….:
Why:
Because it's time for our annual underwhelming journey to getting knocked out at the last 32 stage of the Europa League by some 3rd rate Euro Club.

How to watch it:
UK – BT Sport
US – You should all be at work at this time.
Rest of the world – Check for yourselves
Other options may also be available….
Squads:
Tottenham's CL squad is:
Hugo Lloris, Michel Vorm, Paulo Gazzaniga, Toby Alderweireld, Jan Vertonghen, Davinson Sanchez, Eric Dier, Juan Foyth, Kieran Trippier, Serge Aurier, Danny Rose, Ben Davies, Victor Wanyama, Mousa Dembele, Moussa Sissoko, Dele Alli, Christian Eriksen, George-Kevin Nkoudou, Heung-Min Son, Harry Kane, and Fernando Llorente
The supplementary 'List B' of youth players is TBC, though one of those would almost certainly be Harry Winks.
Manager – Mauricio Pochettino
Dortmund
Andreas, Bernhard, Dieter, Franz, Fritz, Gerhard, Gottfried, Gunther, Hans, Harald, Heiko, Heino, Heinz, Helmut, Herman, Holger, Hubert, Jan, Jens, Jorg, Jurgen, Karl, Klaus, Kurt, Lars, Lothar, Maximilian, Otto, Reinhard, Sven, Timo, Uwe, Werner, Wilhelm, and Wolfgang.
Der Kaiser – Peter Bosz.

Team News:
Tottenham - Lamela, Nkoudou, Rose, Wanyama all still injured. Dele Alli is banned.
Dortmund – Bartra, Guerreiro, Reus, Schmelzer all out. Durm, Rode, Schurrle and Weigl likely to be missing. Subotic a doubt due to illness.
Match Officials, all from Italy:
Referee – Gianluca Rocchi
Assisted by – Elenito Di Liberatore and Mauro Tonolini
4th Official – Alberto Tegoni
And those two useless fuckwits who stand on the goal line – Luca Banti and Massimiliano Irrati
Weather Forecast:
Dry, Temperature a tropical 14c.
Score Predictor:
Score Predictor was warned to be on his best behaviour, and to avoid the predictable, unnecessary, and unfunny references and inferences to England/Germany historical rivalries, the outcomes of World Wars etc etc when it comes to making his expert judgement.
Score Predictor has assured us that he will be on his best behaviour.
Score Predictor says….
Last edited by a moderator: